If you've never heard of them before, there is this little company called '37 Signals'... they made a couple mildly popular products one of which is called Campfire.
Campfire has a really neat chat client you can use to collaborate with other team members. It even comes with some pretty handy features such as uploading files or tracking (and searching) chat history... and it all works even when you aren't online.
That said, as neat as Campfire is - it is still a website so some of its functionality is a bit limited. For example, desktop notifications. Of course there could be stuff out there but I haven't checked.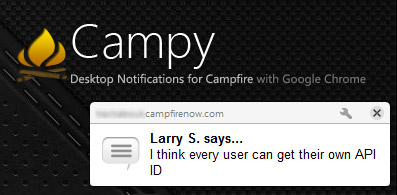 So with a bit of tinkering I came up with a handy little Chrome Extension named Campy to do the job.
Chrome is especially useful with the Application Shortcuts feature. I use it in a variety of places like Grooveshark or Toggl so naturally Campfire chat fits in perfectly.
Anyways, if you use Campfire and Chrome then this might be a handy extension for you!
October

19

,

2010
Campfire, Google Chrome and Extensions
A simple plugin to allow desktop notifications when using Campfire with Google Chrome.
Downloads