You may have seen my previous post where I was deciding on the laptop I was going to purchase. I ended up going with the Sony VAIO VGN-FW463J/B (I can actually type it from memory after all the work I did this weekend). I got an awesome deal from NewEgg.com at a mere $899 - no tax!
To recap - here are the specs...
| | |
| --- | --- |
| Operating System | Windows Vista Home Premium 64-bit |
| CPU Type | Intel Core 2 Duo P8700 2.53 GHz |
| Screen | 16.4 |
| Memory Size | 4GB DDR2 |
| Hard Disk | 320GB |
| Optical Drive | Dual Layer DVD Burner |
| Graphics Card | ATI Mobility Radeon HD 4650 (1GB) |
| Dimensions | 15.1" x 10.3" x 1.14-1.46" |
| Weight | 6.9 lbs |
Overall I'm quite satisfied with my purchase but it was a tough road to get here. This last weekend was rough to say the least. Here are a few of the problems I had when I got started.
Heat! Yowza!
I was quite shocked when I felt how hot this laptop is. It isn't unbearable but is certainly isn't ideal either. The odd thing is that the bottom of the laptop actually seems to be cooler than the top!. For the most part it seems that the harddrive and the graphics cards are the culprits - but since I plan to switch to a SSD drive later on then that source of heat should go away - and since I use the n52te when I play any games then the graphics card should be irrelevant (even though the vent exits where my arm would be -- but whatever, close enough)
Wireless
The wireless works until it comes out of sleep mode - then it works for one or two requests and dies. You have to fiddle around with the connection before it finally restores itself. It isn't terrible since the wireless "on/off" switch is on the front of the laptop and you can use it to "reboot" the connection. Just a slight annoyance that you can easily overcome.
BLOATWARE
I remember when I was a teenager my parents bought me a VAIO and if I remember correctly they had a bunch of custom software for everything. In fact, instead of using the typical Windows 98 Start menu, they had some custom screen for managing your applications. You could get out of it but it was also a pain since it was in your way at the start.
This VAIO is no different - they have a bunch of silly programs to do things that are already built into Vista (like one to manage your wireless connection - why?). Along with that you have some other apps pre-installed applications like a trial version of Office or Norton Anti-Virus.
The problem comes in since you can't do a clean install because the restore disks automatically reinstall all the bloatware you didn't want -- well that is unless you intervene.
The solution is really quite simple - just end task out of the installer!
At one point you'll see that the VAIO restore disks are trying to install the software and drivers - just press CTRL-SHIFT+ESC to pull up the task manager and then end the process! The program fails, the Vista install completes and all the drivers you need, minus the wireless driver, can all be found on the restore disks.
Everything was installed correctly after the Vista install finished so I doubt you need the restore disks for the drivers - but they are there if you need them (again - the wireless driver has to be downloaded from the Sony website though).
Summary
I'm happy with my new laptop even though it took some effort to get to this point. Now my desk looks even more nerdy!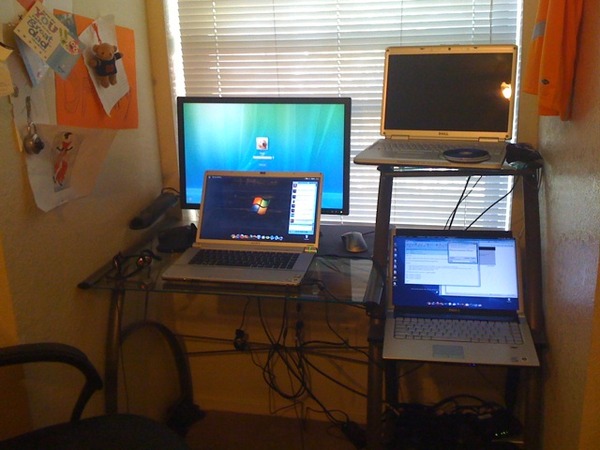 August

31

,

2009
Sony VAIO - Now With Less Bloatware!
Personal post about a new laptop I purchased.